Verbal Guidance vs. No Guidance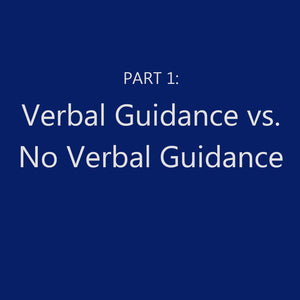 Excerpt from Training Series Video "Common Concerns"
Many of our Sacred Acoustics recordings include both a verbally guided version and a non-verbally guided version. We include both for a few reasons. The most important reason is that our listeners seem to have a strong preference for one or the other. Some very much prefer a non-guided version and others very much prefer verbally guided versions. We include both by default.
If you are someone who really enjoys those nonverbal versions, that's great, listen to those as much as you wish. We do encourage you at least once to listen to that verbally guided version. This will give you an idea of our motivation behind making the frequencies and an idea of the flow of those different frequency sets.
Once you have listened to the verbal guidance once, you do not need to listen to it again unless you enjoy it. Keep in mind that we don't have constant verbal guidance throughout any of our recordings. It is usually words just for one to three minutes at the most with long periods of silence. Don't be concerned that you will have constant chatter coming at you. One exception is Divine Love, which contains a yoga nidra guided meditation.
For those who prefer the verbally guided versions, we also encourage you at least once to try those nonverbal versions. The verbally guided versions are great if you are used to having an anchor of a voice to guide you but the non-verbal versions really give you a chance to escape completely from that linguistic mind.
While listening, you can follow the same instructions that you remember from the verbally guided versions or work in something of your own. Perhaps another spiritual practice such as a breathing pattern or mantra, or phrase that you repeat.
Feel free to try that while listening to those non-verbal versions. Those non-verbal versions can really give you a different experience than when you are being guided and are very useful when applying your own unique intention.
Recordings that contain no verbal guidance at all: Sacred Sleep, Sacred Siesta, Event Horizon, Cosmic Womb, Sacred Lullaby, Whole Theta, Whole Alpha, Whole Delta, Lo Ban Pai Trance. 
---
1 Response
Leave a comment
Comments will be approved before showing up.