Living in a Mindful Universe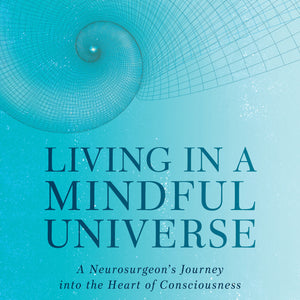 My professional collaborations with Eben Alexander began following the publication of his first book, Proof of Heaven, when he invited me to present workshops on using sound to explore within consciousness. When we met in November 2011, prior to his book's completion, he spoke about his spiritual odyssey while in coma three years prior. He was adamant that the condition of his brain would not have allowed for any formation of mental experience at all, at least according to conventional science, and yet he had vivid memories of rich experience.
We met in the setting of using sound to engender transcendental states of awareness. Eben wanted to return to the realms he encountered during coma and I had been using sound to cultivate my own expanded awareness of the spiritual realms, getting in touch with my intuition, my soul's purpose and developing skills using my "sixth sense."
While Eben was just getting started with using specialized binaural beat audio recordings, I had become an avid listener over the previous several years. My recent listening habits had included a steady and ongoing undertaking with Kevin Kossi, composer, sound engineer and co-founder of Sacred Acoustics. He and I had been intently investigating the use of sound for engendering expanded states of awareness and invited Eben to join us in what we called shared sound journeys. 
Living in a Mindful Universe includes Eben's first experiences using binaural beats, our early days of exploration, and how Sacred Acoustics recordings have become a valuable personal tool for many individuals. We relate the vital importance of developing a reliable method of going within (with sound being just one option), for such benefits as improved focus, relaxation, intuition, creativity, inspiration, emotional release, and more. 
The book also relates how the current dominant worldview of the Western world, that of reductive materialism, is fundamentally flawed. Our secular society completely ignores the reality of what cannot be perceived with the five physical senses and maintains our lives continue from birth to death and nothing more. People who express otherwise are often disparaged or simply dismissed. 
Despite marginalization, many such people (including myself) go about their lives perfectly content with the knowing that behaviors, thoughts and attitudes have an influence on unfolding reality. Eben explained to me that this reflects the philosophy of metaphysical idealism, the polar opposite of reductive materialism. Given my personal understandings and broad exposure to esoteric and spiritual texts, I took for granted many of the topics he considered to be revolutionary, given that I held the opposite worldview. 
The truth is, there does exist a scientific body of evidence that consciousness, our very awareness, is the primary force underlying all of physical reality - and that includes each and every one of us. In Living in a Mindful Universe, we explore the emerging view of consciousness that is revolutionizing the scientific community, an unprecedented shift in the western scientific paradigm that, when fully incorporated, will lead to far more meaning and purpose in our lives.
Scientists can continue debating the mind-body question, but meanwhile, the rest of us can determine for ourselves the reality of our existence. Armed with the knowing of our spiritual essence and understanding the ways to manage our personal reality allows each of us to play our part in becoming more of who we really are as eternal spiritual beings.
As we each transform our individual self, embodying love as a core principle, collectively, we transform our world into one of harmony and peace, where all souls are equal and accepted for their unique contribution to the whole we comprise together.
---
1 Response
Leave a comment
Comments will be approved before showing up.