Beyond the Brain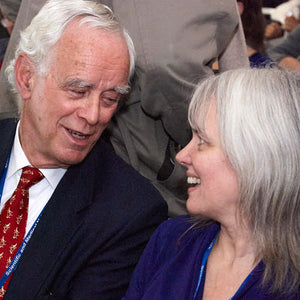 In a recent edition of Paradigm Explorer (2019 / 1), published by the Scientific and Medical Network, Tim Houlding summarized the Beyond the Brain conference held in London in the fall of 2018. Eben Alexander and I (Karen Newell) were honored to be among the featured speakers. Eben spoke about his near-death experience while in coma in 2008 and its implications regarding theories of consciousness, a topic thoroughly covered in our co-authored book, Living in a Mindful Universe.
Dutch cardiologist Pim van Lommell spoke about the evidence for continuity of consciousness beyond death through his research of cardiac arrest patients. He completed his presentation with a perfect quote, "Our ideas about death define how we live our lives," and "When the power of Love becomes stronger than the love of power, our world will change!" I was pleased to follow Pim because these sentiments spoke directly to my own topic.
So many are fascinated with what happens when we die, but as Pim noted, concepts of death inform us in how we live in the here and now. Near-death experiences speak about the love they experience on the other side and many argue that sort of love can't be experienced here. But I know from personal experience it's quite possible to bring that amazing sense of love and oneness into our physical world. Many speak about the importance of love, but when explaining precisely how to bring love into the world, many fall short.
My task at the conference was to provide a "taster" session of Sacred Acoustics sound technology prior to our workshop the following day. But passive listening to the tones is not enough to accomplish our greatest goals. For the fullest benefit, we must engage our infinite minds - and hearts.
An excerpt from Paradigm Explorer sums it up well:
"Karen explained that accessing the infinite awareness of the Cosmos through meditation strengthens our heart connections and soul perspective and allows us to live beyond the illusions of the physical world. Karen introduced us to the [Ultimate] Golden Rule: 'Bring love into your own heart to bring love to others.' She spoke of Great Love as a birthright for us all and spoke of finding a balance between our female/male aspects - a celebration of Yin/Yang, Moon/Sun. She led us through the deep sounds of her Sacred Acoustics programme with the invocation of finding peace within, leading to peace without."
As more of us take time to strengthen and define our inner world, our external world will begin to change. People who take on this task, through whatever methods, find that as they become more peaceful on the inside, aspects of their outer lives begin to change in beneficial ways. Sacred Acoustics recordings help to quiet the mind and truly generate that inner peace.
---
1 Response
Leave a comment
Comments will be approved before showing up.