Presenting at Rhine Research Center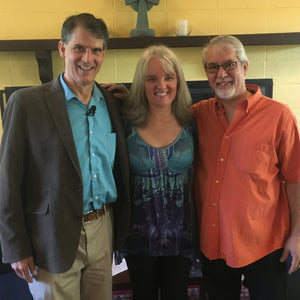 An enthusiastic crowd greeted Eben Alexander and Karen Newell in Durham, NC this past weekend at two events hosted by the Rhine Research Center. 
John Kruth, Executive Director, welcomed us and shared an overview of the fascinating scientific research being conducted at the Rhine Research Center, which began in 1930 at Duke University with an academic approach to studying parapsychology. It's wonderful to know that some scientists are open to the reality of psychic phenomena, such as telepathy, energy healing, out-of-body experiences and psychokinesis, and are applying scientific protocol in their research. 
At Friday night's presentation, we were introduced by Larry Burk and presented with a copy of his book, Dreams that Can Save Your Life: Early Warning Signs of Cancer and Other Diseases, a collection of amazing stories of medically-confirmed precognitive dreams along with tips for developing dreams as a source of guidance and healing. We presented material from our book, Living in a Mindful Universe, followed by a brief group sound experiential and then answered thought-provoking questions from the audience. Afterwards, we enjoyed signing books and chatting with many interesting souls, some who'd traveled from as far away as Seattle and Kentucky.
On Saturday, we presented a 4-hour workshop packed with participants interested in going deeper with the overall concepts and in generating firsthand experience using the sounds of Sacred Acoustics. As always, we enjoyed hearing the various reports of people's experiences, including connecting with the souls of departed loved ones, releasing stored emotional traumas and connecting with a sense of oneness. 
After playing Heart Center 2 during the first half of the workshop, we expanded the experience with brand new guidance to create our Love Body while playing sounds from Light Body. While Heart Center 2 provides support for grounding, then expanding the electromagnetic field of the heart, Love Body takes it to the next level by inviting love from source to combine with the love from within.
The binding force of love is available to us all and this visualization provides support for accessing it in our daily lives. We are currently creating a brand new set of frequencies for Love Body, look for it later this year.
---
Leave a comment
Comments will be approved before showing up.