Lunar Cycles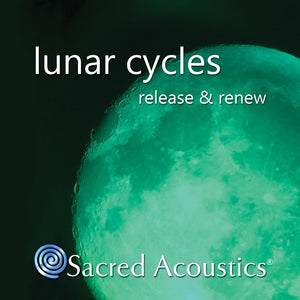 It felt completely natural and appropriate when a long-time Sacred Acoustics listener approached me about an idea for a new recording. I was spending a few days at the Sivananda Ashram Yoga Retreat on Paradise Island in the Bahamas, a peaceful tropical setting. Eben Alexander and I had been invited there for several years running and we were presenting content from our co-authored book, Living in a Mindful Universe, and providing experiential group sound journeys.
Since coffee is not served on the premises (and Eben is an avid coffee drinker), we spent our early mornings walking up the beach to Starbucks at The Atlantis. It was there that Teresa Biggs and I began a lively conversation. She had taken a break from her acupuncture practice and teaching yoga in Florida to attend our workshop.
Teresa had been listening to Sacred Acoustics recordings for about five years and found it helpful with reducing anxiety and assisting in processing huge life changes. She was already a meditator but like many others have shared, our recordings helped her to achieve deeper states more efficiently. Our spirited chatting turned to an idea she had.
"I would love to have audio support for new moon and full moon meditations to assist me with planting seeds on the new moon and releasing stagnant energy on the full moon," Teresa explained. She knew based on her previous experience with our other recordings, that it would greatly assist her with these endeavors and be a fun way to align with the cycles of nature through the moon phases.
My immediate reaction was enthusiastic. Our minds are powerful creators and using conscious intention and attention, we can better manage the direction of our lives. Our brainwave frequencies support a focused state of awareness and it seemed appropriate to combine that with the energy of the moon's phases for manifestation and releasing old baggage.   
Some of our earliest recordings created prior to founding Sacred Acoustics were related to planets and stars and astrology is a passionate hobby of mine. I was fully aware of how the moon's cycles could be harnessed for different purposes and set to work on writing the guidance. 
Given that we had created an Eclipse recording (now Solar Eclipse) the previous summer to correspond with the Great American Eclipse of August 21, 2017, I figured we already had frequencies for the moon and it might come together quickly. I was not disappointed.
Kevin Kossi and I collaborate to create all Sacred Acoustics recordings and he agreed this was a concept we could deliver. Using frequencies of the earth and moon, he created unique sets of tones to allow for an expanded state, but not too deep that the proper intentions could be set.
Since the moon has influence over the ocean's tides, it seemed fitting to include the sound of gently crashing waves. Just 30 minutes each, the recordings are designed to be used monthly during the two lunar cycles. We include a booklet or PDF that provides the listener with guidance on achieving best results and ways to enhance setting intentions and releasing what no longer serves you.
Teresa shared her first impressions: "I have listened to Full Moon & love it!  It put me directly into space and in front of the moon:).  I also liked the effect you put on your voice....almost ethereal....very nice!  The inclusion of the ocean waves was symbolic and added that connection subconsciously of the effects of the moon on our bodies....enjoyed that!  The inclusion of instructions on how best to use the meditations was awesome!! Congratulations on another job well done and helping people process their stuff!!"
The cover image is a photo Kevin took using his telescope with a special filter in a remote area in Connecticut. It's amazing how much detail can be seen and we were thrilled to have an original photograph of the moon.  
RELEASE DATE: MAY 11, 2018
---
Leave a comment
Comments will be approved before showing up.