Love Body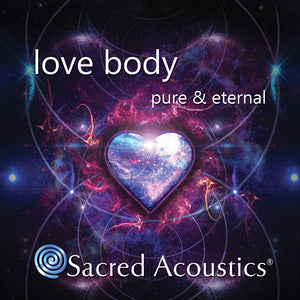 Often it is stated that love is the most important thing in life, yet it's not easy to consistently behave in loving ways towards others. A common adage is the idea that we must love ourselves before we are capable of loving others. Yet we are also taught that putting ourselves first is a selfish act to be avoided. 
Added to that, the golden rule suggests that we must love others as we love ourselves, but how exactly do we do that? It's no wonder that many are left confused. Our latest release, Love Body, offers a way to address this matter.
There are many ways to approach a discussion about love and all the many ways it can be expressed through personal relationships such as parent-child, husband-wife and so on. Many of us look outside of ourselves to satisfy our need to love and be loved. But the most basic form of love can be found within.
In my personal quest to understand love, I realized intellectually the importance of loving myself, but without clear instructions in a manual, it wasn't easy to attain. An early breakthrough came while reading about HeartMath research in Joseph Chilton Pearce's book, The Biology of Transcendence. 
It turns out we can learn to feel the heart's energy by remembering something we appreciate. As I reviewed in my mind all the things for which I was grateful, mostly it resulted in more thoughts. But eventually, memories of playing with sweet, innocent puppies corresponded to a warm, tingling sensation in the area of my heart - the initial spark I sought. 
I had always loved dogs, especially puppies, and I recalled a distinct memory at age 6 when our family pet, Puff (a stray dog we had recently taken in), chose to give birth to puppies underneath my bed. While my mother may have thought otherwise, as a child, the magical, pure wonder of this event will forever be associated with joyful feelings.
As I spent more time devoted to generating sensations around my heart, it became stronger and easier to invoke. Using my mind, I created loving energy simply by placing attention on it. This love did not come from outside - my free will produced it from inside. As it grew stronger, I realized this was how to truly love myself - to become the love. 
When first placing attention on the heart, previously unresolved emotional traumas may be triggered. Once this energetic baggage is released, progress towards embodying love is more attainable. 
Through several other teachings, I had learned how to bring energy from source into the crown chakra. Through personal experimentation, I began to invite that energy into the top of my head after first generating love from within. This combination proved to be a powerful path to embodiment of divine love. There is no way to explain this feeling, you must experience it firsthand.
Those who have had near-death experiences often report being awash in the unconditional love of the spiritual realms, a feeling like no other. Some say that quality of love is not accessible to us in the earthly realm, but I know otherwise. This pure and eternal love is available to us all.
Love Body guides the listener through a mental technique that is critical to the process given the power of our minds. Our intimate connection to the earth (as research from HeartMath and others reveal) inspired a selection of frequencies associated with the earth. To achieve a relaxed but aware state, we embedded modulated brainwave tones associated with delta and alpha states.
While placing near-final touches on the recording, it seemed something was missing - something that represented the splendor of that pure and eternal binding force of love. That something came in the form of a timely email from Gary Gilman, who frequently hosts Eben Alexander and myself at the Vail Symposium speaker series.
Gary had experienced the healing effects of Yemanya Carey, who transmits the "language of light" using her voice. He was familiar with our sound recordings and thought we might have reason to collaborate.  
I quickly surmised the potential role of Yemanya's voice. To fully immerse in loving energy, words can get in our way. Human vocals tuned to divine love from source seemed an ideal way to summon it.
The result is our most unique creation yet - a spellbinding invocation of divine love. By generating love from within, we are able to attract the binding force of love into our physical bodies. As this love is then radiated to those around us, we enact the ultimate golden rule and the world begins to change in remarkable ways. 
Love Body Guided Sample:

Love Body Nonverbal Sample:


For best results, listen with headphones or good quality speakers.
To purchase, click here.
---
3 Responses
Leave a comment
Comments will be approved before showing up.