Reducing Mind Chatter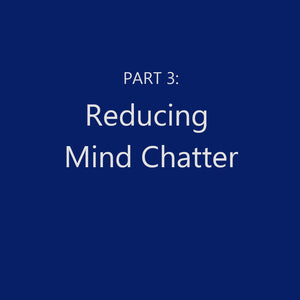 Excerpt from Training Series Video "Common Concerns"
Many of our listeners are initially attracted to Sacred Acoustics recordings because of the claim that it helps to reduce annoying mind chatter. Some of our listeners, as if by a miracle, will listen to our recordings and immediately the thoughts go away and they are quite pleased.
Others have mixed results. Sometimes it works and sometimes it doesn't. Others find it doesn't really reduce that mind chatter as well as they wish. There's other techniques you can try simultaneously while listening.
A common recommendation in many other meditation practices is to pay attention to your breathing. Your breathing is going on without you consciously being aware at all times during the day. When you are noticing those distracting thoughts move your attention to whatever is going on with your breathing. Pay attention as you inhale and exhale at whatever pace is occurring.
Additionally, you can add a phrase to repeat in your mind. In many of our verbally guided recordings, we include a phrase: "let go." You can use any phrase, but if you don't have another, we recommend as you inhale, "let," exhale, "go." Match that phrase with the pace of your breath.
Combining those two can be very useful to distract you from those thoughts. That awareness is very interesting because the part of you that is noticing the distracting thoughts that can be called your inner observer.
Your inner observer can simply choose to ignore those thoughts and not listen to them. That is where the magic starts to happen – when the thoughts can be occurring in the back of your mind, but your inner awareness, can attend to other things with its attention.
Try simply to stop being concerned if those thoughts are taking place and use the opportunity to allow your thoughts to drift with no attachment to them. When that occurs, very often people find that creative inspiration will come through or solutions to problems that they couldn't think of in their normal everyday space.
Never be concerned that you are doing it wrong, that something isn't happening the way it should. You can always take advantage of any opportunity of going within no matter what your thoughts are doing.
---
1 Response
Leave a comment
Comments will be approved before showing up.