Letting Go & Giving Thanks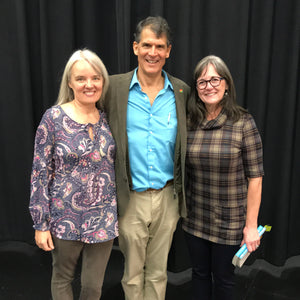 We were invited to Melfort, Saskatchewan in Canada in conjunction with Shelley Zwingli's first of three books - Volume One: Volcanoes. Shelley's life was transformed during a health crisis when she teetered between the physical and heavenly realms. We were welcomed with open arms and enjoyed sharing time with other seekers on this journey of life.
Following our visit, we were honored to receive this kind note from Shelley, including a meaningful poem she was inspired to write:
You entered our lives at the most optimal moment in time. Many of us have been reaching for answers to life's somewhat tricky questions. You have shared your stories and taught us to be open to God's love through meditation and prayer. Thank-you for sharing
Sacred Acoustics
with us. The Creator picked the best duo on the planet to deliver this message of hope in the small yet beautiful city of Melfort. People traveled from the surrounding area, as far as Calgary, to hear your presentations. 
The people who chose to attend the Thursday and Friday events of this past week have shifted. I truly believe that all those who joined us were called by God to be there. Everyone who was suppose to be there was. We've had our souls exposed to that Divine love and we will now reap the benefits of knowing that we are all loved beyond measure. God & Heaven do exist and there is nothing we can do wrong in this life that can't be erased by God. And as Eben has said time and time again — All is well. 
Below is a poem I wrote giving thanks for your kind hearts and caring nature. We are over the moon with gratitude for the both of you sharing your insight and spirit.
Letting Go & Giving Thanks
My lips are numb
and the words will not come.
You have given us courage
and we know not to run.
From the beauty you've shared
you have taught us to care.
Our souls will remember
where we're from, just out there.
The love that you've opened
will continue to grow,
into rivers of sunshine
let's just watch and

 

let go

.
Through the practice of reaching
to the God up above
we will reap all the teachings
and embrace Divine Love.
So here in this moment
lets give thanks for this gain.
We are one with each other
and our lives won't remain,
unhitched from our God
where there's goodness and joy.
We will move ever forward
to connect and employ.
Lets step onward together
with our lamp filled with hope. 
Lets release all that binds us
from our petty minds gloat.
We are not all we think of,
we are free and uncaught
from life's dismal seclusion, 
that is wrong and must rot.
Our lives have been shifted,
you were here just as planned.
We owe you our hearts love,
that you've helped us expand.
We sent thanks for your knowledge
we give praise for you time
You have quenched our souls journey
in the fire of our minds. 
-- Shelley Zwingli
---
Leave a comment
Comments will be approved before showing up.